NEW PATIENTS – WHAT DOES INTAKE LOOK LIKE?
During intake, we want to make sure that you are as comfortable as possible. Please let any CMS staff member know what you need during this time and we will try to accommodate you as best we can.
It may seem as though we are asking a million questions … we are. We want to know all necessary information to ensure the best care possible for you. Staff at Community Medical Services are dedicated to promoting a judgement-free environment so please answer any questions to the best of your ability. We are here to help you.
Intake Criteria
CMS is an opioid treatment program, or OTP for short. Because we are an OTP, our intake criteria are determined by various laws and regulatory bodies that OTPs are required to follow. Do any of the questions below apply to you? If so you are eligible for an intake screening at CMS.
Have you had problems related to opioids for the past 12 months or longer?
Were you released from a correctional facility in the last 6 months?
Were you treated for an opioid use disorder within the last two years?
Do you inject any opioids or other illicit drugs?
Are you pregnant or think you might be pregnant?
Patient Forms
To help speed up the intake process please fill out, print, and bring these forms with you: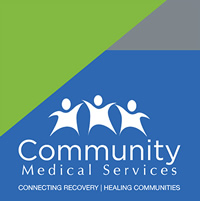 Introduction to Facility and Staff
During this part of the intake you will be introduced to clinical staff. You will be shown the dosing rooms, and therapy rooms.
Urine Drug Screen and Pregnancy Testing
During this part of the intake you will need to provide a urine sample for drug testing. All female patients will be required to take a pregnancy test.
Assessment with Medical Provider
During this part of the intake you will meet with the Medical Provider. You will receive a brief physical. You will discuss your medical history. The Medical Provider will order any additional labs if needed. You will be introduced to the different medication options available.
Assessment with Counselor
During this part of the intake you will meet with your counselor. You will fill out any remaining paperwork including ROIs. Your counselor will do a behavioral health assessment. Together you will come up with your treatment plan and behavioral health plan.